If Galicia stands out for something, apart from its landscapes, mountains and beaches, it is for its rich and varied gastronomy. Below are ten dishes you simply have to try during your Camino trip in Galicia.
1. Pulpo (Octopus)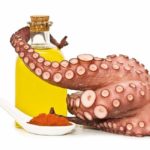 In Galicia, boiled octopus is usually seasoned with olive oil, paprika and salt and commonly served on a wooden board with toothpicks and bread to dip. Contrary to what you might think, the best octopus in Galicia can be found, not on the coast, but in the interior. In the town of Melide (French Camino), you will find tasty octopus served in traditional restaurants such as A Garnacha or Ezequiel. You will be surprised how little a good portion costs, even when served with a glass of nice house wine.
2. Tortilla (Spanish Omelette)
If you are one of those people who don't fancy their eggs undercooked, then the tortilla may not for you. If you're fine with that, then you're in for a treat. The ingredients couldn't be simpler: Galician potatoes, locally produced eggs and good extra virgin olive oil. The traditional Galician version of the Spanish omelette is onion-free. If you want to see the real masters of tortilla-making at work, then go to the legendary eateries of Mesón O Pote or Casa Miranda in the village of Betanzos (English Camino), whose tortillas are regularly lauded as the finest in Spain.
3. Pimientos de Padrón (Padrón Peppers)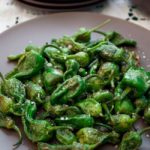 These famously tasty small green peppers are grown around the town of Padron, just one stop from Santiago de Compostela on the Portuguese Camino. Normally fried in oil and sprinkled with salt, you will find them served as tapas all over Galicia. Summer is their season, so if you are walking the Camino during the warmer months, you have to try some. But be careful: While their taste is usually mild, there might be one little hot fellow hiding on your plate.
4. Galician Cheeses
There are three types of regional cured cheeses that you have to sample if you go to Galicia. Each is a traditional cow's cheese.
Tetilla Cheese. This is a soft cheese with a creamy texture, produced around the tows of Arzúa, Melide and Curtis (French Camino)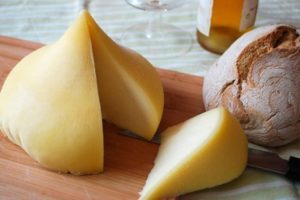 Queen San Simón da Costa. Similar in shape to Tetilla cheese, but smoked in birch, this yellow and very tasty cheese is produced in the Terra Cha region of Lugo Province (Camino Primitivo).
Arzúa-Ulloa Cheese (French Camino). This is the most creamy and smelly of the three cheese. It is round and flat in shape and made from raw and pasteurised milk. If you buy a block, put it on a plate and don't be scared when you open the fridge and see that it has expanded. It's a cheese with a life of its own!
5. Empanada (Galician Pie)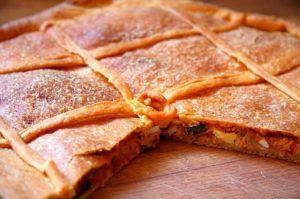 The Galician version of this classic savoury pastry or large pie has all kinds of tasty fillings: zamburiñas (queen scallops), cod with raisins, cockles, veal (sardines), octopus etc. If you follow the jagged coastline of the Rías Baixas region (Route of Father Sarmiento / Coastal Portuguese Camino), try a Galician empanada  with pan de millo (corn bread). It may just become your favourite Camino snack.
6. Caldo Gallego (Galician Soup)
Traditional Galician soup may be regarded as a wintertime dish, but it could also have an all-year-round appeal to the weary Camino walker in need of recharging. The basic ingredients are grelos (similar to kale) or cabbage, potatoes, pork fat (sausage or bacon) to add flavour and texture, as well as beans for consistency and bite. In many bars and restaurants, they offer Galician soup as a tapa, so it would be quite difficult to leave Galicia without sampling it. Best served in a clay bowl, or cunca.
7. Zorza (marinated pork)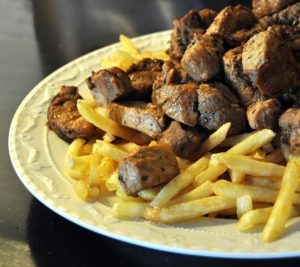 Zorza is a delicious dish of marinated and diced pork chunks (though it can very in style depending on what part of the province you find yourself). The pork is fried and mixed with such ingredients as garlic, oregano, parsley, or paprika. It is also normally served with french fries. A really authentic version can be found at Raxaría As Neves in A Coruña (English Camino).
8. Pescado (Fish)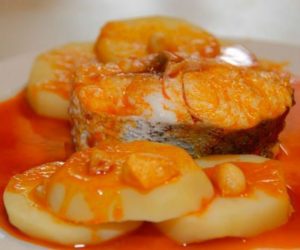 The sea surrounding Galicia is home to a huge variety of fish species including hake, monkfish, turbot, haddock and ray. The locals have a great love of seafood and will eat just about anything that is hauled ashore. One of the traditional ways in which fish is served is "caldeirada," that is, as a stew with potatoes, laurel, garlic and paprika. If you prefer fried fish then go for the xoubas (small sardines) or the chinchos (small mackarel). But do as the locals do and make sure you eat it all, everything from the head, fins and tail!
9. Cocido Gallego (Galician Stew)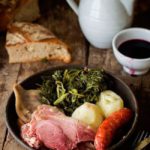 The lighter version of this traditional stew might be more suitable for the warmer Camino season, that is, a stew that includes potatoes, turnip tops, bacon seasoned with olive oil and the paprika that is so popular in Galicia. But if you'd prefer to get a good hearty stew into you, one that includes butelo (similar to black pudding), chorizo and chickpeas, then go to Casa Villar, in Paradavella, Lugo (Camino Primitivo). You'd better go hungry!
10. Marisco (Shellfish)
We cannot leave out shellfish. The Galicians love it. Barnacles, scallops,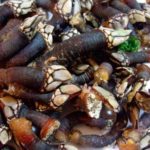 spider crab, mussels, crayfish…you will have to sample at least one of these delicacies.
If you are a fan of Arroz de bogavante (lobster with rice), then head to A Cofradía de Rinlo on the coast of Lugo (Northern Camino), or O Triskel in Illa de Arousa (Route of Father Sarmiento), where you can try this unique dish as well as any of the many kinds of rice and seafood dishes on offer. You'll come out licking your fingers.
If you try all these dishes, and still want more, you can pretty much consider yourself a native and move to Galicia for good!